Urban Diva Bridal Collection – Pearls, Rhinestones, and Ribbon, oh my!
To all the Brides and Bride-to-be's out there, we all know how important it is to accessorize for the big day so that you look like perfection as you walk down that aisle. You said yes to the perfect dress, found your shoes, picked out jewelry, and the hairstyle so all that's left are the final touches…..the hair accessories! There are so many sparkly options out there, so now matter what you go with, you can't go wrong because bridal hair accessories tend to stand the test of time. Whether rose gold hued metals are trending or not, classic pearl and rhinestone embellished hair jewelry never go out of style. Browse our Urban Diva Bridal Collection for some beautiful and affordable options.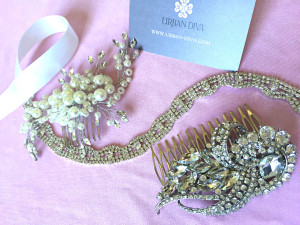 Because October is Breast Cancer Awareness month, Urban Diva will  donate 10% of the proceeds from each Bridal Collection item purchased throughout the month of October to the Breast Cancer Research Foundation, to support this very important cause. Think Pink, ladies and shop for a good cause as you prepare and accessorize for your big day!