The Inspiration Behind our Ethereal Collection
Hello all my lovelies! I hope everyone has a lot of juicy and fun plans this long weekend for Valentine's Day and then let's not forget that extra day off (for some of us at least) right after, President's Day. I am so glad you stopped by to visit our blog with all that you have going on, and this post in particular to read about our newest jewelry collection that we recently launched, the Ethereal Collection. So without further adieu, please read on!
Back in December as I was in the midst of planning for new and fresh inventory for 2016, I wanted to introduce a line of jewelry that really spoke to what signifies the Urban Diva girl and our overall brand. So reaching deep down I sought to embrace all the characteristics that an Urban Diva gal embodied. This brought me a few months back to when I first launched Urban Diva back in the Fall of 2015. I always knew that whatever jewelry I curated for our customers, it had to give the wearer a sense of confidence and an awareness of her self-being and most importantly, how fabulous she is as her own person. Building upon this inspiration, I sat down with pen and paper and jotted down adjectives that came to mind that exemplified these thoughts. As I was jotting, words such as "goddess", "empowered", "sophisticated", and "graceful" among a list of other powerful uplifting words all dotted my notepad.  I was on a roll, as I glanced over these amazing descriptors I had written down, they formed the underlying vision of the type of jewelry pieces I envisioned as part of our next Urban Diva collection. I named it our Ethereal Collection – jewelry that was delicate yet bold, sophisticated and refined but with personality, pieces that inspired goodness, grace, and beauty coupled with a fashion forward sense of style – all of which is what I believe speaks to the Urban Diva girl.
Each piece in the Ethereal Collection is an expression of the beautiful words I had jotted down, as seen in the contemporary gold and lustrous look and feel of the pieces, but just like each Urban Diva girl is her own person with her own sense of style, each of the pieces has "her" own personality and look. It only felt right to name them, so out of this, Angelica, Celeste, Trinity and Seraphina were born and now available for purchase in the Urban Diva store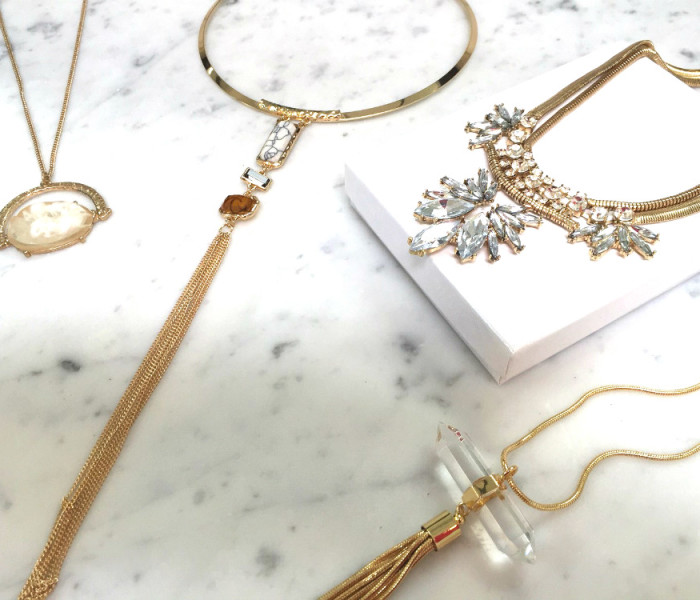 From L to R: Angelica, Trinity, Seraphina, and Celeste.
To bring all of our images to life it was important for the photoshoot to really capture the essence of each of our pieces. Collaborating with Food/Lifestyle Blogger and budding photographer of the blog, The Babbling Brooke, Brooke Reiser and I brainstormed and went over the vision of the photoshoot. The locale had to be contemporary, sophisticated and airy, my stated must-haves, and with that we settled on none other than the Griffith Observatory sitting among LA's Hollywood Hills. You couldn't get any point higher or more "ethereal" then there. We did the photoshoot on a cloudy Saturday morning hoping to miss the crowds of tourists that make the trek up to Griffith. With our model and muse, the beautiful Rochelle Johanson, Brooke captured images that evoked a crisp, light and airy feel to showcase our Ethereal Collection jewelry line. As with our other collections, we wanted to show that these pieces are still very versatile and can be worn with casual wear up to a glammed up evening look.  See some of the beautiful images that graces our website and social media platforms.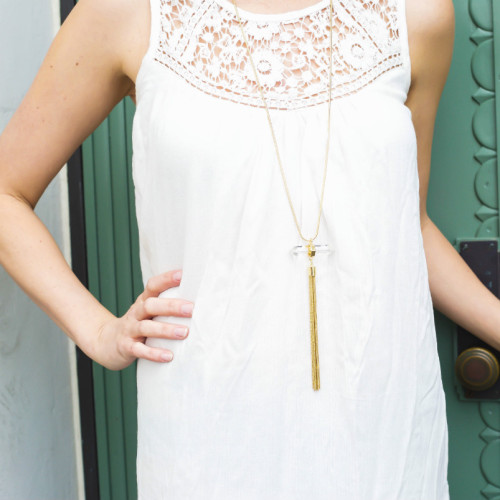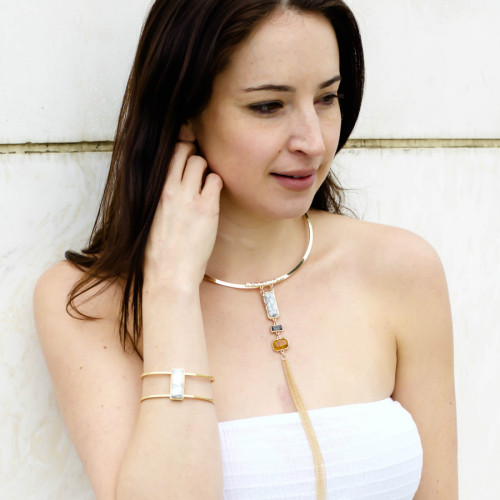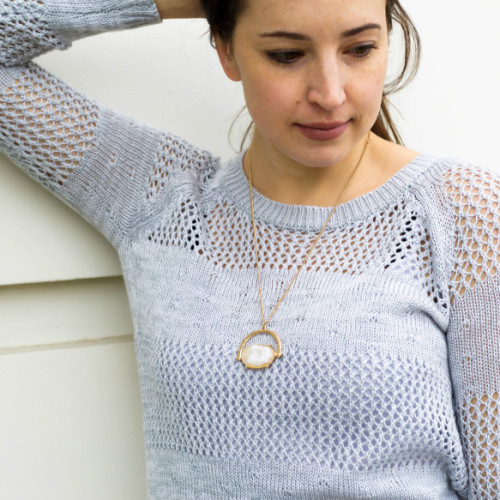 Our Ethereal Collection pieces are here to express your inner self and all things that make us women the beautiful creatures that we are. If you have not yet met Angelica, Celeste, Trinity or Seraphina, then please hop on over to our store to get acquainted. I hope any one or more of these beauties speaks to you and how fabulous you are.