While there were many unforgettable gowns on the red carpet at the 2017 Golden Globe Awards, we couldn't keep our eyes off of the accessories! The focal point for many of the outfits were necklaces, rings, and earrings! There were some classic, vintage jewels and a couple of trendy pieces, like chokers, made an appearance- proving that chokers aren't out for 2017.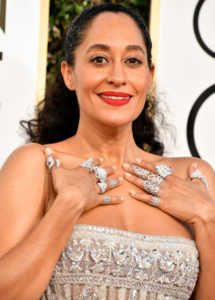 Multiple Rings
Whoever said less is more clearly never knew how to layer rings! Tracee Ellis Ross stunned everyone with a fistful of diamond rings. Intricate layered rings were also featured on stars like Drew Barrymore, who wore 7 Harry Winston diamond rings. A great tip for achieving the perfect layered ring look is ordering a size down so you can have midi rings! Shop the layered ring trend here.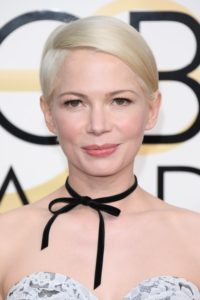 Chokers
Michelle Williams proved that chokers are here to stay for 2017. She made edgy and elegant work with a lace Louis Vuitton gown and a simple, dainty black choker. Her look proved that one tiny accessory packs major punch. Chokers turn even the most basic outfits into style statements. Shop the trend here.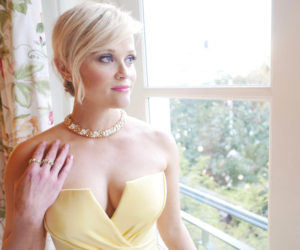 Sparkling Statement Collar
Reese Witherspoon wore a dazzling canary diamond collar necklace by Tiffany & Co with her yellow gown. The right statement necklace, especially a glam one, can turn any plain outfit into something special. If you aren't rocking Versace like Reese Witherspoon, try adding a glam statement collar necklace to a chambray shirt! Shop the trend here.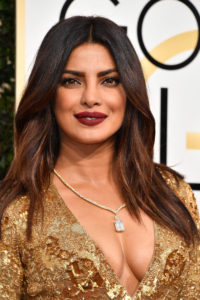 Statement Pendant
Actress Priyanka Chopra wore a gorgeous statement pendant from Lorraine Schwartz. A statement pendant necklace is a great alternative to a collar necklace. For some, collar necklaces are too chunky, especially if you have a short neck. A statement pendant provides the same amount of wow-factor, but it takes up less space! Shop the trend here.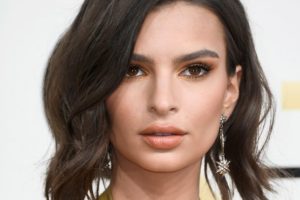 Statement Earrings
Emily Ratajkowski rocked a pair of drop statement Reem Acra earrings on the red carpet. Paired with a faux bob, the earrings accented her yellow dress perfectly. Drop earrings add that extra punch to perfectly polished power outfits. They add attention-grabbing detail that is impossible to ignore- in a good way! Shop the trend here.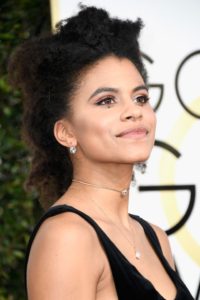 Delicate Layered Necklaces
The final item on our list of jewelry trends we loved from the golden globes is layered necklaces. Zazie Beetz layered two delicate gold necklaces that added just a little something to her all black gown. Simple, yet elegant, these necklaces make her outfit look complete. Shop the trend here.
Overall, there were a lot of jewelry trends that we loved from the Golden Globes and we are inspired by all of the looks! This year's set of stars dazzled us with jaw-dropping statement pendants and simple, dainty pieces that topped off the night's best looks. Which look was your favorite? Tell us in the comments below!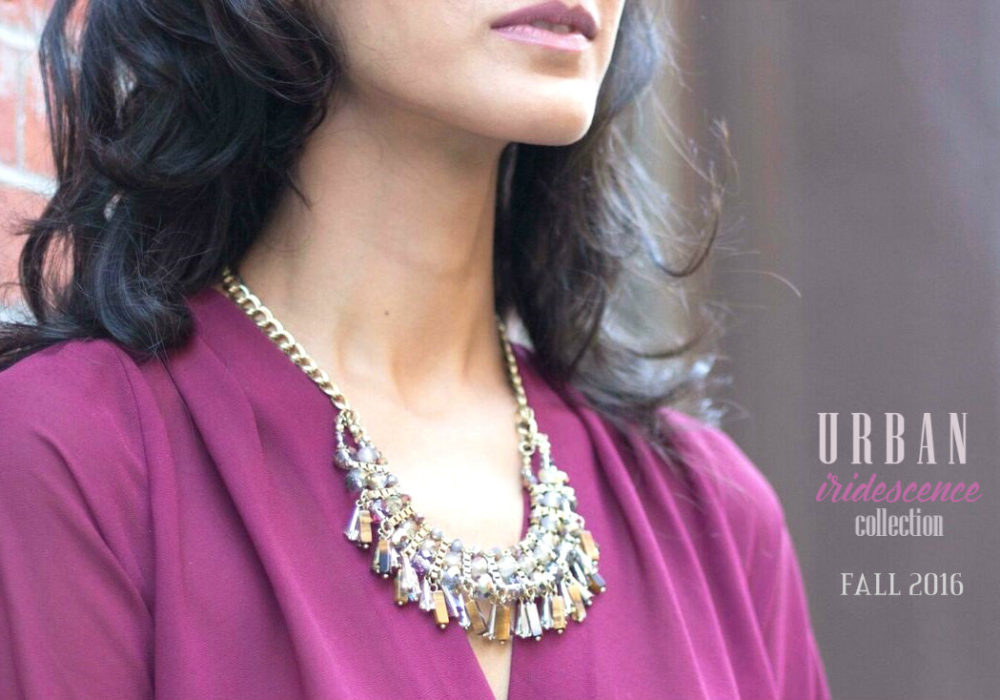 Although I will say that autumn is not my favorite time of year, there is something to be said about the change in seasons from summer to fall that awakens the senses and marks a transition of change. Whether it be the aromas of pumpkins spice lattes from your favorite local café, or the subtle hints of smoke from chimneys, to the drop in temperatures, the most visual for some of us are the color changes of foliage from a vibrant green to a dazzling array of bright red and orange colors. This last visual note, was the inspiration behind our Urban Iridescence Collection.
As we transition from summer to fall, I am sure there are many Divas out there excited to finally break out their stylish jackets and trench coats along with all the cute wedges and heeled boots that are in trend. Fall wardrobe is noticeably different, in terms of not just material but color. Darker and more richer colors may come into play, and with that, your jewelry usually transitions to accommodate your look. Our Urban Iridescence Collection is all about vibrancy and color. Like the colorful leaves and foliage seen in the fall, our collection reflects this "kaleidoscope of colors" as seen in the shimmering beads and mirage of colorful rhinestones seen on these gorgeous pieces.
To capture the vibrancy and vivid hues of the Urban Iridescence Collection, our images had to embrace both a chic metropolitan vibe inherent to our brand, along with the vibrant colors of the jewelry. Our goal was to capture richer color tones complementing the collection pieces, without losing that urban essence. So what better place to shoot our images then in the eclectic and colorful fashion district of Soho in Manhattan, NY.
With that vision in place, on a bright and early Saturday morning, I met up with three so very talented women to bring the Urban Iridescence Collection to life, in a park in Soho. Our team for the day consisted of the talented Ashley Gallerani (of Ashley Gallerani photography), the amazing Anu Sharma (of MakeUp By Anu) and our gorgeous model, Deeksha Chawla. Over the next three hours we walked around the streets of Soho capturing images of our muse Deeksha, wearing select pieces from the Collection and other new pieces. So many beautiful images were taken with the goal of capturing the essence of the Collection pieces along with the autumn vibe of the city in the background. I want to personally thank Ashley, Anu, and Deeksha for their time and amazing talents they brought to this project. Ladies, I hope this is the first of more collaborations to come!
Here are a few of the behind the scenes images of our day, along with the obligatory selfie to wrap up the fun day we had! To check out the pieces in our Urban Iridescence Collection, visit our shop!