Date night style is about so much more than rocking a killer dress!  You have the date, you've got that killer outfit, your makeup is flawless and your hair is on point, so whats left is to complete your overall look with the perfect accessories. Check out our 6 jewelry styling tips you need to know for date night to take your look to the next level.
It's All About Balance
Stylists recommend matching your necklace length to your dress length for a balanced esthetic: pair long, layered necklaces with short hemlines and short necklaces with long hemlines.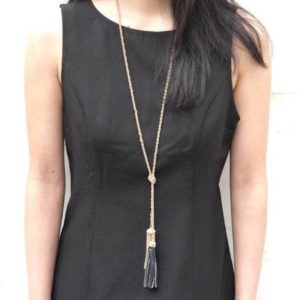 Highlight Your Favorite Features
While we want women to look and feel their best every day, it's especially fun to play up your sexiness on date night.  The right accessories are a great way to highlight your favourite assets.  Play up your decolette with an eye catching necklace, highlight your hands with dainty rights, or make your eyes pop with earrings that bring out your eye colour.
Accentuate your hands with your Stackable Zircon and Twisted Branch rings.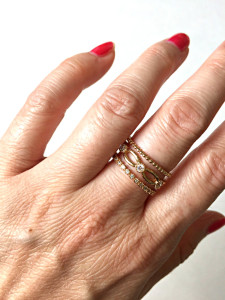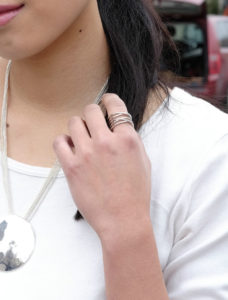 Focus on One Piece
On date night, you want to be the star of the show, not your jewelry!  Stick with one statement piece and balance it out with smaller pieces.  This keeps your look stylish and put together rather than overwhelming and gaudy!
For a hot dinner date, we love the pairing of the Floria Statement Collar with a pair of delicate matching earrings.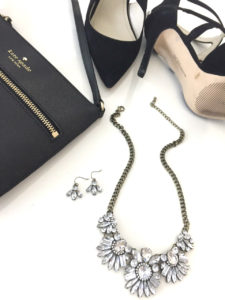 Change up Your Accessories, not Your Wardrobe
Let's be honest, date night outfits can seriously add up!  Rather than shelling out for new dresses, we recommend creating new looks by changing up your accessories.  An LBD, for example, can be reworn repeatedly as the base for vastly different looks!
Dress up an outfit with our Gold Mesh Bib necklace or go sultry with the Beaded Halo Velvet choker.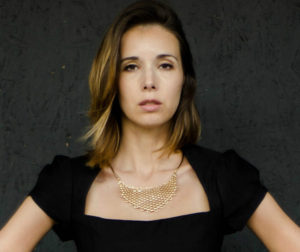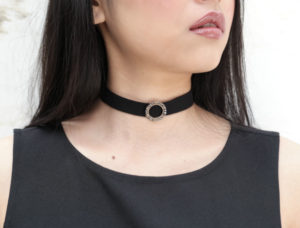 When in Doubt, Go with Pearls
Nothing says timeless style like pearls.  Not only are they synonymous with glamour but they go with practically everything!  Whether you're going high-end with a night at the theater or keeping it casual with a game of mini putt, pearls are a natural choice.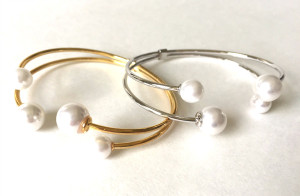 Whatever the occasion, the Pearl Cuff will add a beautiful touch to your outfit.
You Do You
Of course the most important rule of accessorizing is to cultivate your own style!  Think of these tips as guidelines, and remember that rules are meant to be broken.  If you feel great, you're guaranteed to look great.
Browse our sale section for pieces to accentuate your signature style.
What are your go-to pieces for date night?  Share with us in the comment section below!

Hello jewelry lovers! It's been almost a month since we launched, so I want to take the opportunity to share a little bit about our Fall 2015 store launch photoshoot, and how some of the images seen on our Urban Diva home page, social media platforms, and throughout our product pages came to be. None of this could have happened without the collaboration of two fabulous women, the amazing Rachel Madrigal of Rachel Madrigal Photography and the beautiful sultry Oriane Cabare, a French model and actress whose face and images grace our website.
Our photoshoot took place in Long Beach, California where we took advantage of both urban and beach settings to capture the essence and lifestyle we want portrayed with the Urban Diva brand tying in the bold and urban attitude, with the beautiful, free-spirited, and feminine nature that defines us as woman.
Because both Rachel and Oriane were so easy to work with we had so much fun and the time just flew by. We started off the evening in downtown Long Beach searching for the a few different urban backdrops to capture the understated grittiness that I wanted portrayed against certain jewelry pieces worn by Oriane as seen below.
Our jewelry collection is very versatile, offering pieces that can worn both in a professional setting during the day, and as the perfect finishing touch to a party outfit for the night out.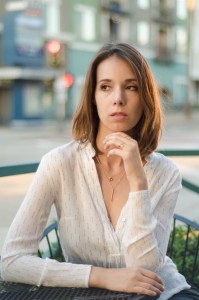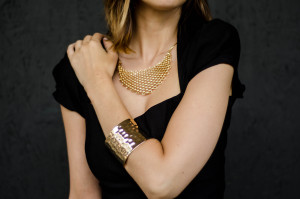 Our final location was the beach, where we rushed to catch the sun at dusk. Here we had Oriane pose in more sultry and carefree vibe to showcase our boho chic and minimalist jewelry pieces that have been in trend.
For any of these pieces and more, please visit our store and browse our selection. If you would like to learn more about Urban Diva, you can visit our About Us page on our website and we encourage you to join our mailing list to keep up to date on what's happening with our store. Given that we are getting close to the holiday season, we are excitedly working on sourcing our winter 2015/spring 2016 collection, we hope you stick around for the unveiling this winter.
Lastly, I want to thank both Rachel and Oriane for the opportunity to work together on this shoot. For more information about Rachel and Oriane, please check out their websites which I linked in the opening paragraph. Thank you ladies, it was a pleasure. I hope we can find another opportunity to collaborate again in the future.