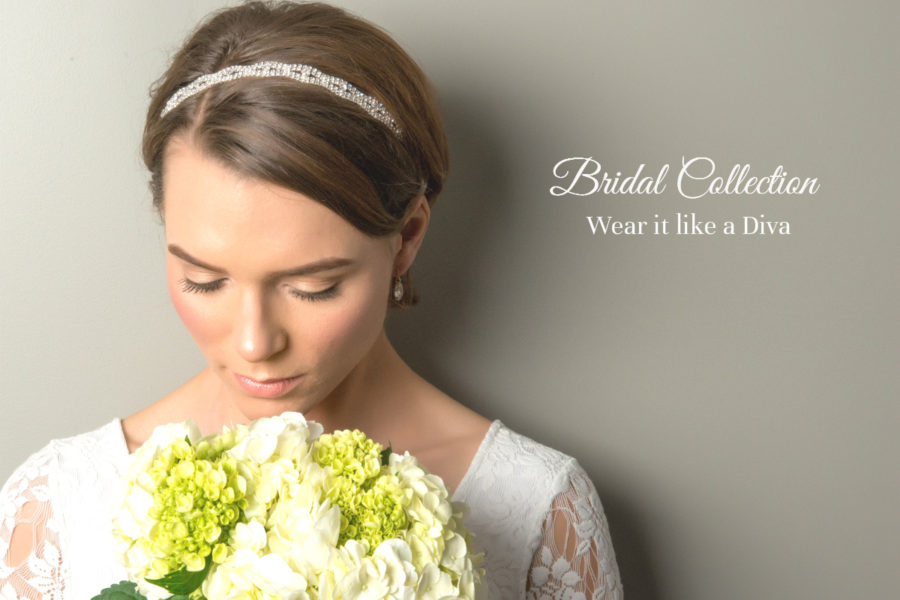 "Trendy" is modern and fashionable, it's hip and all the rage…until you look back at your wedding pictures in 20 years and wonder in horror "what was I thinking with the blue eye shadow, shoulder pads, and floral wreathed double pouf veil?!" The key to the perfect bridal look (for today and many years from now) is to marry (pun intended!) trendy with timeless. Fortunately, some of the hottest bridal hair accessories trends for 2016 and 2017 are classics that will never go out of style. Here are a few options from our Urban Diva Bridal Collection, to help complete that perfect bridal look.
DIVA FOR A DAY
What little girl has not dreamed of being a princess and what better opportunity than on her wedding day? If you aren't into tiaras, a bridal headband is a perfect substitute. Double strands of delicate crystal with shimmery satin ribbon make the CAROLINE CRYSTAL HEADBAND, an elegant and timeless choice for your bridal look.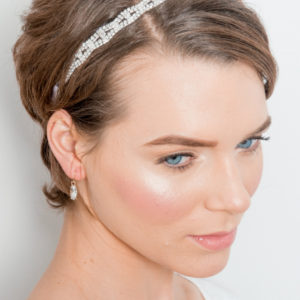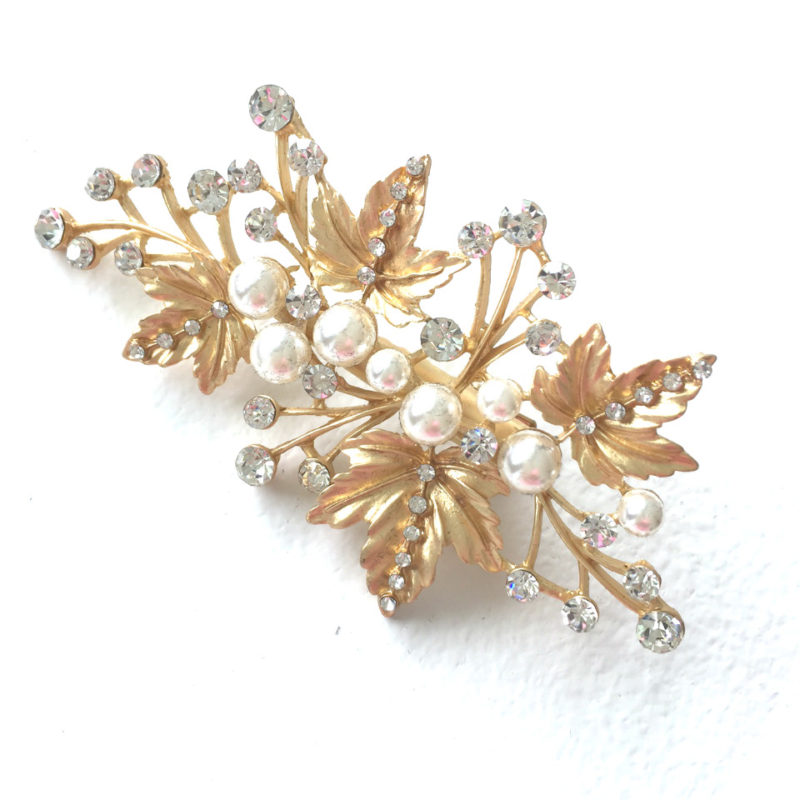 GOING GOLD
Gold, like diamonds, never goes out of style. The trend has come back over the recent years, and many Brides have opted for gold accessories, to finish off their bridal look. From Grecian goddess to bohemian beauty, gold accented hair jewelry inspired by vines, flowers and leaves give your bridal look a gorgeous vintage vibe. Our CAMILLA GOLD LEAF BRIDAL HAIRCLIP is an exquisite combination of gold leaves dotted with crystals and pearls that guarantee you will look nothing short of fabulous on your wedding day!
THE QUINTESSENTIAL HAIRCOMB
Whether your style is classic or modern, combs are versatile and an easy way to dress up your bridal hair-do. For the more modern bride, favoring more opulence and bling, our VIVIENNE haircomb has a more contemporary and edgier look, while our ISABELLA haircomb exudes a quiet elegance with a combination of pearls and crystals, for the more classic bride. Haircombs are perfect choices for the bride who wants that added accent without going overboard.
---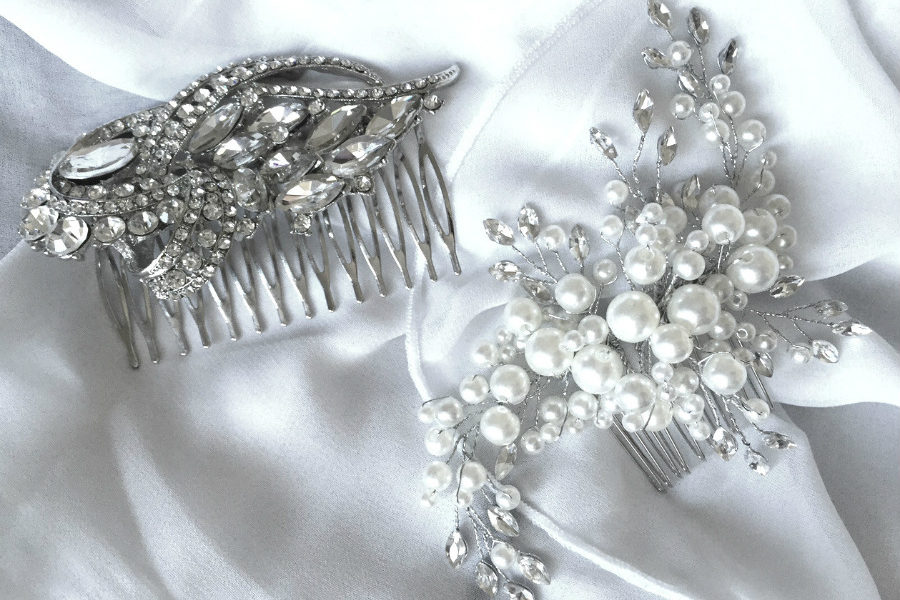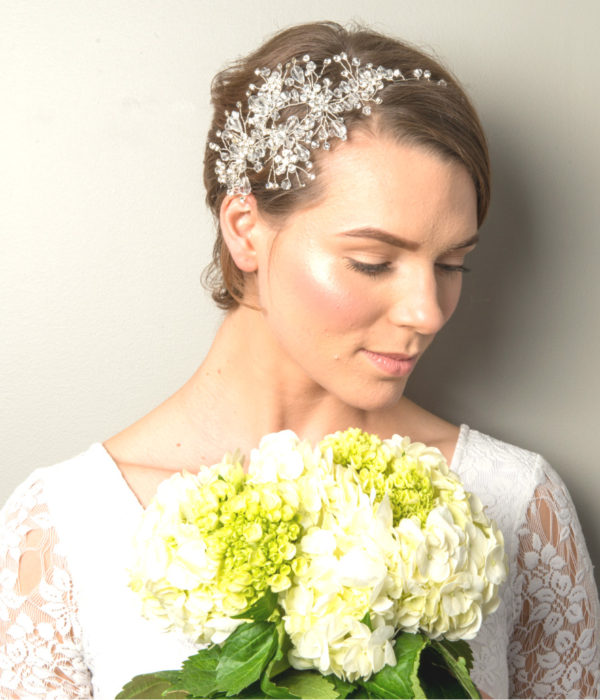 A STUNNING STATEMENT
On trend this bridal season are unique statement headpieces. Hair vine pieces like the SOPHIA CRYSTAL BEADED HEADPIECE is absolutely drop-dead gorgeous. The popularity of hair vines has definitely been noticeable due to not just the versatility of wrapping them into your hair-do in countless ways for a very one-of-a-kind look, but for the feminine and naturally gorgeous vibe it adds to your bridal ensemble. The intricate beadwork and crystals on our Sophia combine for a truly stunning piece; all eyes will be on you with this showstopper on your wedding day.
So to all you beautiful brides to be, aside from all the decisions you have to make around all the wedding planning details, nailing your perfect bridal look that you have always envisioned is essential. You just can't go wrong any one of these four categories of timeless, and still trendy, bridal hair accessories.
To all the Brides and Bride-to-be's out there, we all know how important it is to accessorize for the big day so that you look like perfection as you walk down that aisle. You said yes to the perfect dress, found your shoes, picked out jewelry, and the hairstyle so all that's left are the final touches…..the hair accessories! There are so many sparkly options out there, so now matter what you go with, you can't go wrong because bridal hair accessories tend to stand the test of time. Whether rose gold hued metals are trending or not, classic pearl and rhinestone embellished hair jewelry never go out of style. Browse our Urban Diva Bridal Collection for some beautiful and affordable options.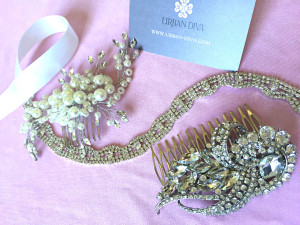 Because October is Breast Cancer Awareness month, Urban Diva will  donate 10% of the proceeds from each Bridal Collection item purchased throughout the month of October to the Breast Cancer Research Foundation, to support this very important cause. Think Pink, ladies and shop for a good cause as you prepare and accessorize for your big day!