Choosing The Right Bridal Hair Accessory
As a bride-to-be you are probably overwhelmed with the endless possibilities of how you want to do your hair for your wedding day. Hair accessories can bring your look to the next level, but choosing them can be tricky! The key to choosing the right bridal hair accessory is to go for something that will complement your aesthetic, not compete with it. Here are a few tips on how to complete your day-of look.
Wedding Dress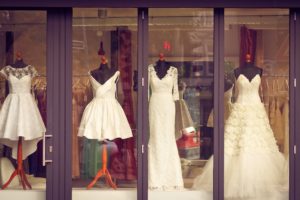 Arguably one of the most important aspects of the wedding is the wedding dress! The wedding dress sets the style for your whole look. When looking for a wedding hair accessory, you want to look at the style, color, and whether or not your dress has embellishments. If your dress is simple and doesn't have any embellishments, it leaves you open to choosing any type of hair accessory! If you dress is more detailed and has a lot of embellishments, you want to take that into consideration.
Hairstyle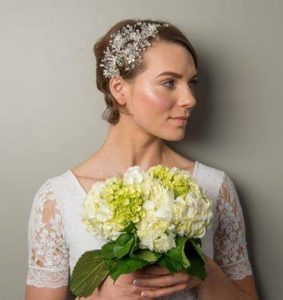 Before you embark on hair accessory shopping, decide what hairstyle you are going to do for your wedding! Will you be wearing your hair in an updo, half-updo or keep it all down and loose? It is best to choose your hairstyle first, then choose accessories that will complement your hairstyle! It is also important to take your hair type into consideration. If you have short hair, like the model in the picture, then a headband or a hair vine would work best for you! If you have thin hair, you may want to stay away from heavier pieces that will weigh your hair down. Another thing to take into consideration is if you decide to wear a veil! Fortunately, most bridal hair accessories, such as clips, hair vines, and headbands, look amazing with a veil!
Theme Of Your Wedding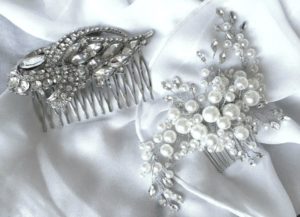 When choosing a wedding hair accessory, keep in mind the overall look and feel of your wedding! Are you having a romantic wedding? Then maybe a beautiful, classic comb like the Vivienne and Isabella combs pictured above. If you are having a boho wedding, a delicate halo headband might be the perfect finishing touch!
Gold or Silver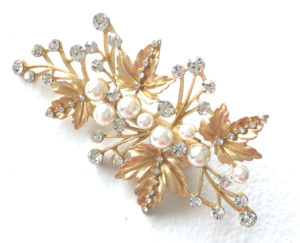 Nowadays, gold hair accessories are just as popular as silver! Which can be confusing for some brides that love both gold and silver! If you are thinking about gold, gold accessories look best with an ivory, champagne, or off-white dress. Just be sure to stay consistent if you go for a gold hair accessory– make sure your jewelry is gold too!
The Type of Accessory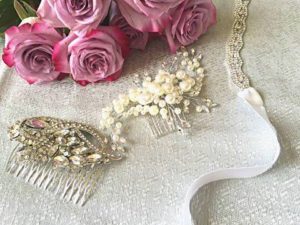 With so many options, it can be hard to choose the type of accessory you want! Here is a rundown of some options.
Comb: Hair combs are an extremely popular choice among brides! With so many different styles, it is easy for brides to find one that matches their style!

Hair combs

work best accenting an updo, but they can also be used to sweep loose locks to the side!

Headband: Depending on the style, a

headband

can add a romantic, bohemian, or regal feel to your look. You can choose a dainty headband for a romantic look or make a statement with a blinged-out headband! The best part is they can be worn with any hairstyle, including short hair!  

Hair Vine: Bridal

hair vines

are a newer trend that brides are loving, mostly because they are so versatile! Great for a romantic or bohemian look, hair vines can be twisted and bent into different shapes to accent the hairstyle.
Wedding Day Jewelry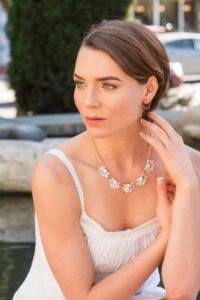 You have the perfect dress, an amazing style, and ideal hair accessories- now all you need to top of the look is bridal jewelry! It's best to stay with the same color metal when matching your jewelry and bridal hair accessories. You will also want to find pieces with the same elements- whether it be rhinestones, pearls, or a knockout combination of the two!
Overall, there are a lot of things to consider when choosing the right bridal hair accessory. Look for an accessory that will complement both your wedding dress, hair style, and the jewelry you will be wearing. Also, remember to choose a bridal hair accessory that will go with the theme of your wedding! It all seems a little overwhelming, but the most important thing to remember is to stay true to yourself and your style- it is your wedding day! Don't worry about being the "perfect" bride and don't feel like you have to listen to everything that you "should" or "shouldn't" do! This is your day and you should feel like your most beautiful self. The bottom line: do what makes you happy!
Comments are closed