What is FABDILab you say? Hosted by FAB Council, the Digitial Influencer Lab (FABDILab for short) was a FAB-ulous one day event held in Santa Monica where bloggers, influencers, and brands came together to learn, network and connect with one another.
The day was packed with a line-up of speakers and panels from the industry where they shared their experiences, imparted their knowledge, and most of all inspired others who are just starting out whether it be an up-and-coming blogger/vlogger or a newly launched brand (like Urban Diva!)
Attendees were a mix of both established and new bloggers and Youtubers, PR and digital marketing firms were well represented, and a mix of various brands ranging from fashion, skin care, and bath and beauty products to natural foods and drinks. Being that I am new to this entire space it was not only really helpful hearing the advice given from various speakers throughout the day, but also refreshing to meet and connect with other people to hear their experiences thus far in their journey and to help and support each other.
At the end of the day, during the closing party, Urban Diva set up our very first vendor booth (or I like to think of it as our first pop-up store) to showcase and offer our pieces for sale. I also unveiled pieces from our holiday inventory that is not even on the website yet for sale (but will be soon on November 1st).
I held a drawing for a necklace giveaway for event attendees both to draw folks to my table and to showcase one of our 2015 holiday collection pieces. The winner of the drawing was local Los Angeles fashion blogger Andrea, also known as the PhDFashionista. She will be the first to own our Dreamcatcher Tassel necklace. We can't wait for her to feature it with one of her outfits on her blog, she is going to rock it.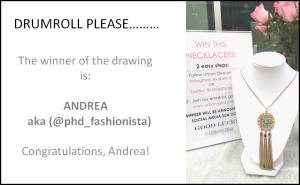 FABDILab was a such a great experience overall for Urban Diva. Thank you FABCouncil for putting on such a FAB-ulous event.